On its opening night, the Seguso Experience witnessed great success with many enthusiastic visitors and lines outside of the furnace with eager participants waiting to see the revolutionary way Seguso has reimagined the encounter with a Murano factory. "The attention we received in these evenings was totally above our expectations, for hours we have seen…
Seguso opens the doors of its furnace to excite the audience of the Biennale of Architecture 2012 from August 27 – September 10 beginning at 9 pm each evening. The furnace. An exceptional place where sand and fire mark the beginning of a journey that transforms incandescent matter into precious objects. Few people know that…
Seguso previewed their latest designs in the Interiors collection at a creative opening in their New York showroom. The event coincided with the ICFF show in New York. Among the new products interior designers, architects and members of the press were on hand to preview was the Ballerina chandelier designed by Pierpaolo Seguso.
Seguso hosts a special evening with Giampaolo Seguso in New York. The poetry and glass of Giampaolo Seguso were featured during a special poetry reading and cocktail reception at 41 Madison.
A new lighting exhibition, Sand and Fire, hosted at Officina 2 Via Savona 33, took place during Milan's Design Week 2012. An astonishing 15,000 visitors experienced the exhibit, a place touched by the glow of fire, where design, research and innovation blended with wise and ancient gestures, along with contemporary themes and interpretations, always with…
Seguso is pleased to announce a lighting installation in NYC running through the end of January. The exhibit opened on December 12 with a cocktail party cohosted by NY Spaces Magazine, and attended by New York's interior design community. A loft space on the 9th floor of 41 Madison Avenue is serving as a backdrop…
Seguso hosted a group of US interior designers and architects on a unique training trip to their factory in Murano. Through this the designers were able to gain a greater appreciation for the artistry of Seguso glass, as well as the wide range of capabilities that are possible when working with Murano glass.
Giampaolo Seguso was selected by the city of Venice to make the gift for Pope Benedict XVI, in honor of his first papal visit to the city. This continues the long tradition of Seguso producing their works of art in glass for the Papal state from a series of chandeliers commissioned for the Vatican over…
During Art Basel Miami Seguso exhibits their selection of lighting designs, original archival drawings, and contemporary patented furniture collection  at NIBA HOME, 39 northeast 39th street, Miami, Florida
Seguso was pleased to welcome several designers partaking in the prestigious Design Leadership Summit at their factories in Murano. The Design Leadership Summit, held in Venice this April, is the most exclusive annual gathering of leading architecture and interior design firm principals in the U.S. This exclusive event is dedicated to inspiring community and improving…
The Venetian house of SEGUSO is synonymous with exquisite artistry, style, and sophistication. Since 1397, Seguso has pushed the boundaries of innovation and imagination in the world of art glass. Now, 600 years later, Seguso redraws the boundaries again, introducing its first to-the-trade-only collection of SEGUSO INTERIORS: Seguso lighting, furniture, and accessories for the professional…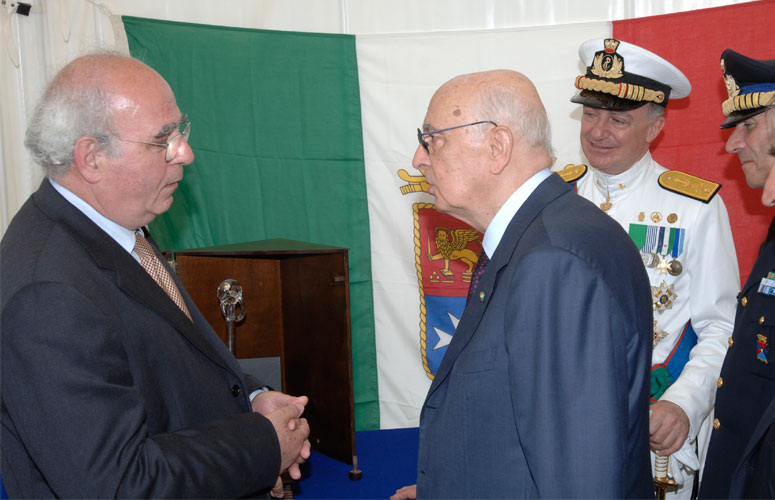 Giampaolo Seguso was part of the official celebration with the President of the Italian Republic, Giorgio Napolitano during his visit of the Arsenale base of Venice. The Admiral of the Italian Navy, La Rosa, with the Minister of the Italian Defense, La Russa, were on hand to accept the donation of a glass anchor made by…