Seguso Vetri d'Arte stands once again alongside the great Italian cinema, on the occasion of the 22nd edition of the "Terra di Siena Film Festival", among the most important italian film festivals. The 2018 program presents national premiere movies of remarkable artistic value, highly anticipated by critics. The participation in the festival is a pleasant…
Seguso Vetri d'Arte, always supporting Art, has been close to the "A Life in Music" Award for years. In 2018 Seguso VA paid homage to the soprano Mariella Devia, one of the greatest diva of Italian belcanto, with an artwork in Murano glass that, like music, becomes a universal symbol of harmony. On May, the…
A special project unites Seguso Vetri d'Arte with the 74th Venice International Film Festival: 300 blown glass globes create the extraordinary scenery that illuminates the façade of the Palazzo del Cinema of Lido in Venice, an installation conceived and designed by the Biennale di Venezia to host the stars on the red carpet for this…
Seguso Experience, a multi-sensory journey created by Seguso Vetri d'Arte  that leads the visitor on the discovery of art, tradition and passion, won the prestigious award Attraction of the Year for 2016 in Italy, in the Holiday & Tour Specialist section. The award, sponsored by United Airlines and promoted by Luxury Travel Guide, rewards the…
At the 73rd Venice International Film Festival, the "Sfera 1932 Award" by Seguso Vetri d'Arte has been awarded to "Spira Mirabilis" produced by RaiCinema. On occasion of the internationally reknowed Venice Film Festival, Seguso Vetri d'Arte created the precious work of art honoured by the Consorzio Venezia e il suo Lido to the movie able…
The Seguso Experience, rated the best tour in Murano, has now been selected for the 2016 Certificate of Excellence by TripAdvisor. We are honored to inspire visitors from around the world with our family history. The Certificate of Excellence accounts for the quality, quantity and recency of reviews submitted by travelers on TripAdvisor over a 12-month period….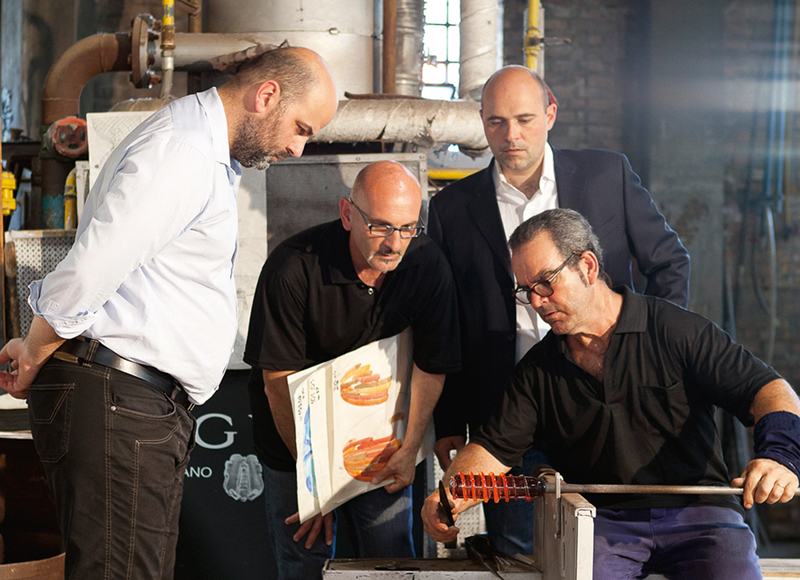 Seguso Vetri d'Arte chosen by the Confindustria Study Center as one of eight case histories of Italian companies that produce the "beautiful and well done," as part of the annual report "Exporting la Dolce Vita". Seguso Vetri d'Arte was chosen by the Confindustria Study Center as a case history for the furniture sector that exports…
Seguso Vetri d'Arte delivers to Jeffrey Tate, one of the greatest orchestra conductors of our time, the work "Luce e Suono" on the occasion of the award "Una Vita nella Musica 2016" At the Teatro La Fenice in Venice, the great conductor, Jeffrey Tate received the prize "Una Vita nella Musica 2016", an initiative founded…
An editorial initiative that enhances and promotes the art of know-how and unique, customized creations, a symbol of excellence, which makes Italy one of the main reference points for craftsmanship. Photographer Dario Garofalo has immortalized the faces, hands, and the tools of Seguso masters, revealing a great tradition that is handed down from generation to…
For the third straight year Seguso created the awards to be given to the honorees of La Fondazione NY's La Notte Gala.   The awards were designed by the late, legendary designer, Massimo Vignelli. Fashion designers, Domenico Dolce & Stefano Gabbana, and film director, Baz Luhrman were among the honorees this year. The event was held…
Seguso was honored to produce the awards this past November for Place2Be, a UK charity that provides school based mental health support to help children realize their full potential, and is the official charity of HRH the Duchess of Cambridge, Kate Middleton. Giampaolo Seguso designed the awards and had a special audience prior to the…
Seguso in collaboration with legendary designer, Massimo Vignelli, produced the awards for the honorees of La Fondazione NY's second gala benefit LaNotte. La  FondazioneNY 2013 Gala was hosted at The Morgan Library & Museum on the occasion of the exhibition of "Leonardo da Vinci: Treasures from the Biblioteca Reale, Turin". The exhibition, on view at The…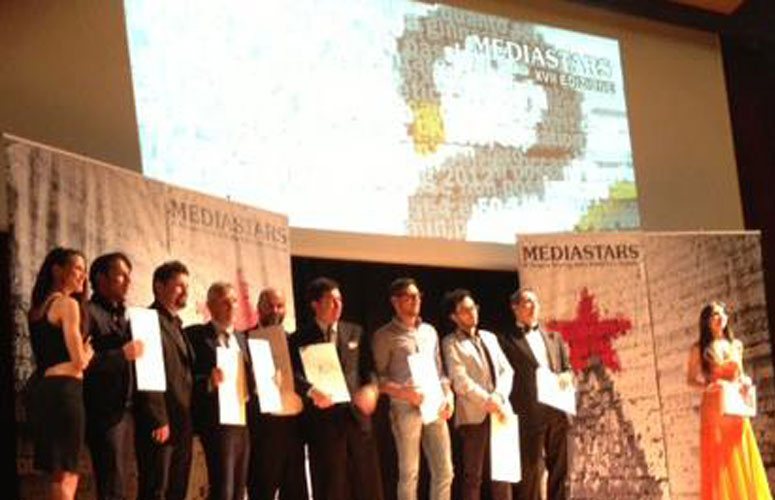 Seguso Experience is awarded the 2013 MEDIASTARS Award. SPECIAL STAR in the section of CORPORATE IDENTITY, the most important Italian award in the area of creativity. The ceremony was held at the San Fedele Auditorium in Milan, where Pierpaolo Seguso received the award.
Seguso and the glass of Murano are the protagonists for the 2013 Year of Italian Culture in the USA. The artwork Axis Mundi was presented by Pierpaolo Seguso to the Minister of Foreign Affairs, Giulio Terzi as a symbol of Italian culture. A new and important international success for Seguso, the historical family of glass…
Selected by an online vote of interior designers and architects, the Canneto chandelier wins a merit award for best lighting design in the chandelier and pendant category. Each year Interior Design Magazine selects the best products and interior installation designs. During an online vote within the design community, the winner is chosen and then honored…