Seguso celebrates Art Basel Miami by showcasing their latest creations in Murano glass at the Niba Home showroom in the Design District of Miami. Thursday, December 3rd, 2015 from 5 – 8 pm Niba Home 39 E. 39th Street Miami Design District www.nibahome.com (305) 573 1939 rsvp@seguso.com
This weekend Seguso was one of the protagonists of a traditional event in the city of Venice by taking part in the Regata Storica di Venezia 2015. Seguso's flag waved along the canals on board of "Il Moro di Venezia".
Seguso glass chandeliers and artwork by Giampaolo Seguso, sparkled in London at the Victoria and Albert Museum's Design Fund Dinner. Hosted in the Raphael Gallery and attending by business leaders and art collectors from London.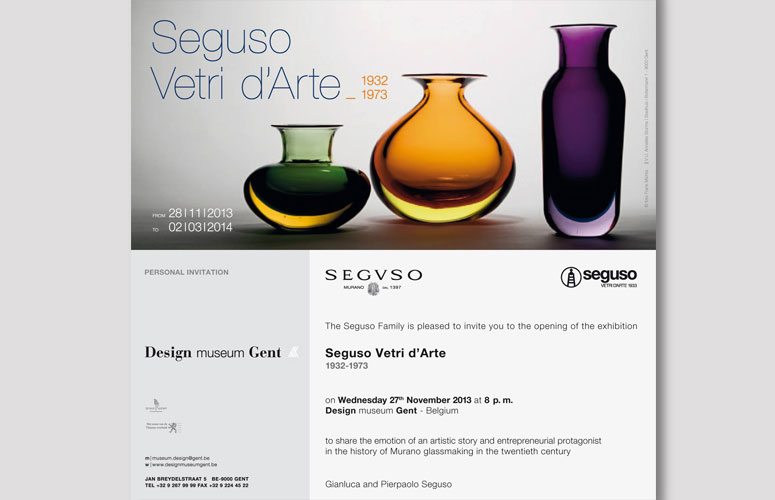 Having won great public and critical acclaim at the Museo del Vetro in Murano (Italy), the exhibition moves to Belgium. A selection of 190 masterpieces traces the fundamental artistic contribution of Seguso Vetri d'Arte to the development of Murano glass art during the 20th century.
The prestiguous show FRAGILE, which traces the history of Murano glass opened this evening at the Musee Maillol in Paris. From March 27 to July 28, 2013 this exclusive exhibition will showcase more than 200 pieces created by the great Venetian masters and contemporary artists. The artwork, "A Mio Padre" ("To My Father"), by Giampaolo…
Seguso Vetri d'Arte 1932/1973 Murano Glass Museum May 18 – September 29, 2013 This exhibition results from long research by Belgian scholar Marc Heiremans, an expert in the history of contemporary Murano glass, into
one of the finest glass makers of the 20th century: "Seguso Vetri d'Arte". Through a selection of masterpieces, it examines the evolution…